Judging Virtual Competition With Spreadsheets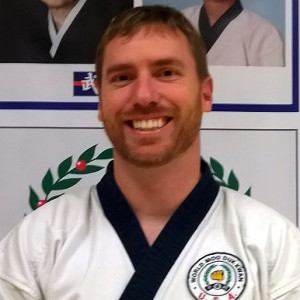 Below are some instructions on how to judge using the event spreadsheets.  
Invites to the spreadsheet will be sent to judges or judges can click on the event spreadsheet link and request access.
The judging process is similar to the 2020 Virtual Nationals with refinements learned from tournaments since then.   
If you have any questions, issues, or improvement ideas please contact me at sbntownsend@gmail.com. I'll be happy to help or make improvements as needed.
1) Open the spreadsheet and find your ring.
You will see your name in the upper left corner of the sheet/ring you  are assigned to: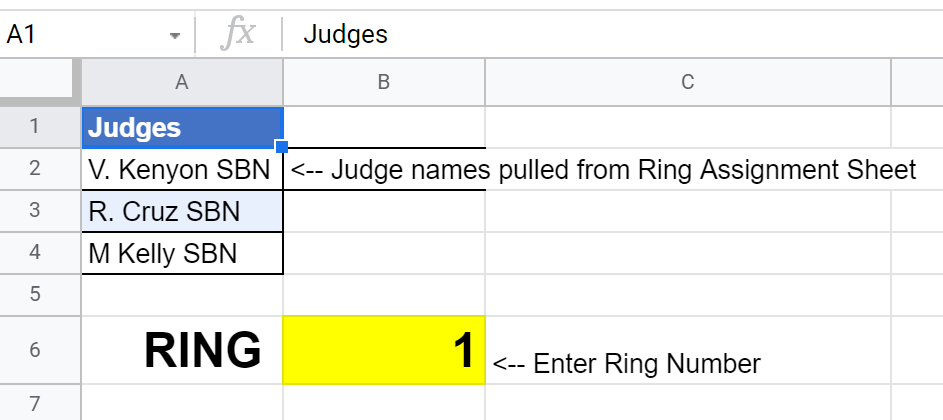 2) The divisions have already been selected for you.
There are multiple divisions per sheet which can be accessed by scrolling down.
Once you are finished judging one division, simply scroll down to find your next division.

3) Each division is divided into sections. 
The top shows the Division name (and type when applicable).

4) The Preliminary Results section is calculated automatically.
Preliminary Results are determined by automatically retrieving each judges manually entered scores from the Scoring Table and calculating the results displayed here. 
Preliminary Results are ordered by the score first, then total score (to resolve ties where total scores are different).
(Scores entered below are for instruction purposes only.)

5) The Final Results section is manually populated.
The reason is to preserve the judges final decisions by assuring the placing will remain fixed even if something accidentally changes later in the scoring table. 
Manual enter of final results also allow judges to resolve ties when the Score and Total are equal for two or more competitors:
6) The Scoring Table displays the list of competitors.
Competitor names are on the left with a link to view their video submission.
Each judge is to enter scores in their column only. 
The totals to the right will be calculated automatically based on the rules for 3 judges (and, when applicable, 5 judges). 
The calculated results are reflected in the Preliminary Results table above.

7) Ties are manually resolved.
The tables beneath the Scoring table are used to resolve ties. 
These tables requires manual entry. 
The results and the effect on the division winners will need to be entered manually in the Final Results table.